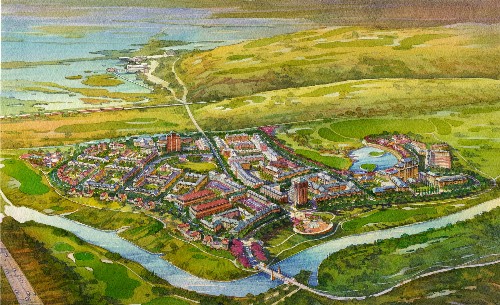 Monday 7th June - at our shiny, temporary new home of
the Phoenix
, brings us Meadowlands. Anyone with an early copy of the programme will note that this slot was given over to the perhaps more eye-catchingly titled piece I Was A Teenage Lesbian.
That however, was the early days, and now that the play has actually been written, it transpires that our heroine after all wasn't a lesbian when young. Or if she was, it hasn't been deemed of sufficient interest that that remains the title.
So, Meadowlands it is. What's it about? Search me. It only flew into my inbox less than a week ago. Maybe it's got something to do with
this
. Or maybe it's a heartfelt drama about the creation of an
American sporting arena
.
But its writer is David Carr, whose debut with us, Tango in the Dark, is still talked of in glowing terms by those with memories deeper than a goldfish's. Indeed, it's going to be in next month's showcase.
So come along to the Phoenix on Monday. 7.45 - though the start may be a little delayed. It's a new home, so who knows how these things work out!